When buildings appear clean and well maintained, people are more likely to respect the facilities. Special-Lite's partitions are the ideal choice for restroom facilities that are expected to endure heavy use and frequent abuse such as education facilities, arenas, locker rooms, athletic facilities, pools, showers, spas, retail, restaurant and other public facilities. They are perfect for corrosive environments that quickly degrade metal partitions.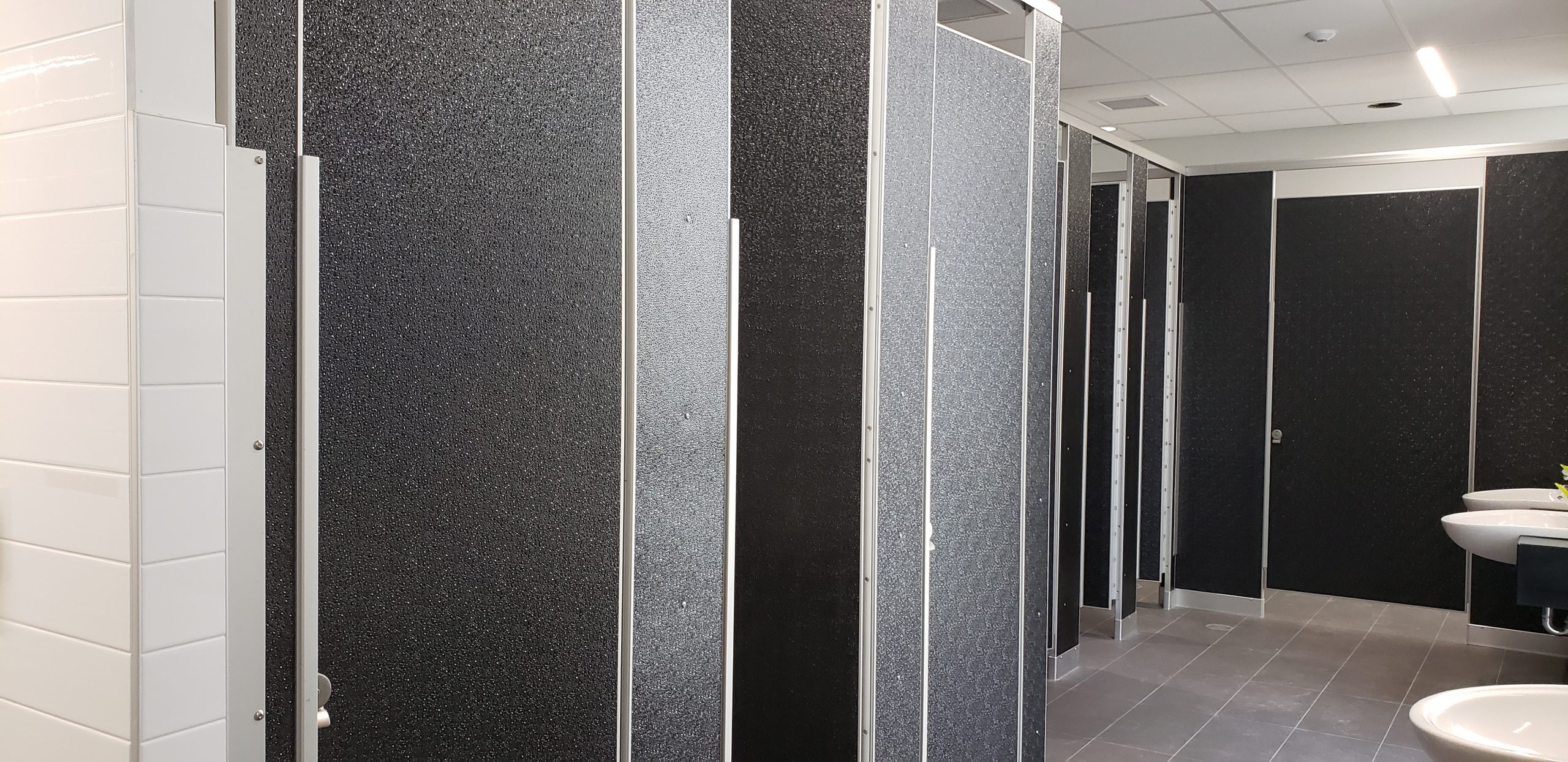 Carleton University – Steacie Building for Chemistry
Carleton University, located in Ottawa, Ontario, is a public university that was founded in 1942 to serve the needs of veterans returning from the Second World War. Today, there are 27,000 undergraduate students and 4,000 graduate students on a 150 acre site. Over the years, Carleton University has gone through expansions and construction of several buildings as well as renovations of existing facilities. One such project was renovating the washrooms of the Steacie Building for Chemistry. Included in the renovation was the addition of a multiple occupancy all-gender washroom.
A solution that would decrease maintenance costs and increase privacy while meeting the applicable fire codes was needed.  Special-Lite was considered because there are numerous door installations on campus. Even so, the university had to evaluate the toilet partitions in one of their washrooms. After two years of trouble free performance, the facilities and maintanence department was satisified that Special-Lite's toilet partitions would meet the requirements of the university.
Durability
Special-Lite toilet partitions are 20 percent lighter than a comparable steel system and less than half the weight of HDPE. This puts less stress and strain on hardware and wall attachments and increases the durability of the whole system.  All fasteners are tamper-resistant. The SpecLite 3 fiberglass facesheets prevents dents, scratches, stains and makes graffiti easy to clean. The facesheets are locked in place on all four sides in integral reglets in the panel edge extrusions.
Privacy
Providing privacy for the students, faculty and staff was a high priority for the university.  Special-Lite restroom stall doors ensure maximum privacy through the use of a continuous hinge and doorstop. A full-length corner and wall bracket helps eliminate sightlines while increasing the structural integrity of the stall. A patented anodized continuous gravity geared hinge comes standard for ADA stalls. Working with Special-Lite's engineering department, new extended height partitions with a reduced gap at the floor was deveolped while meeting the local fire codes. Along with the additional increase in privacy and the durability of the partitions, a new standard was developed and implemented at Carleton University.